Gartner belicht top spelers in Digital Commerce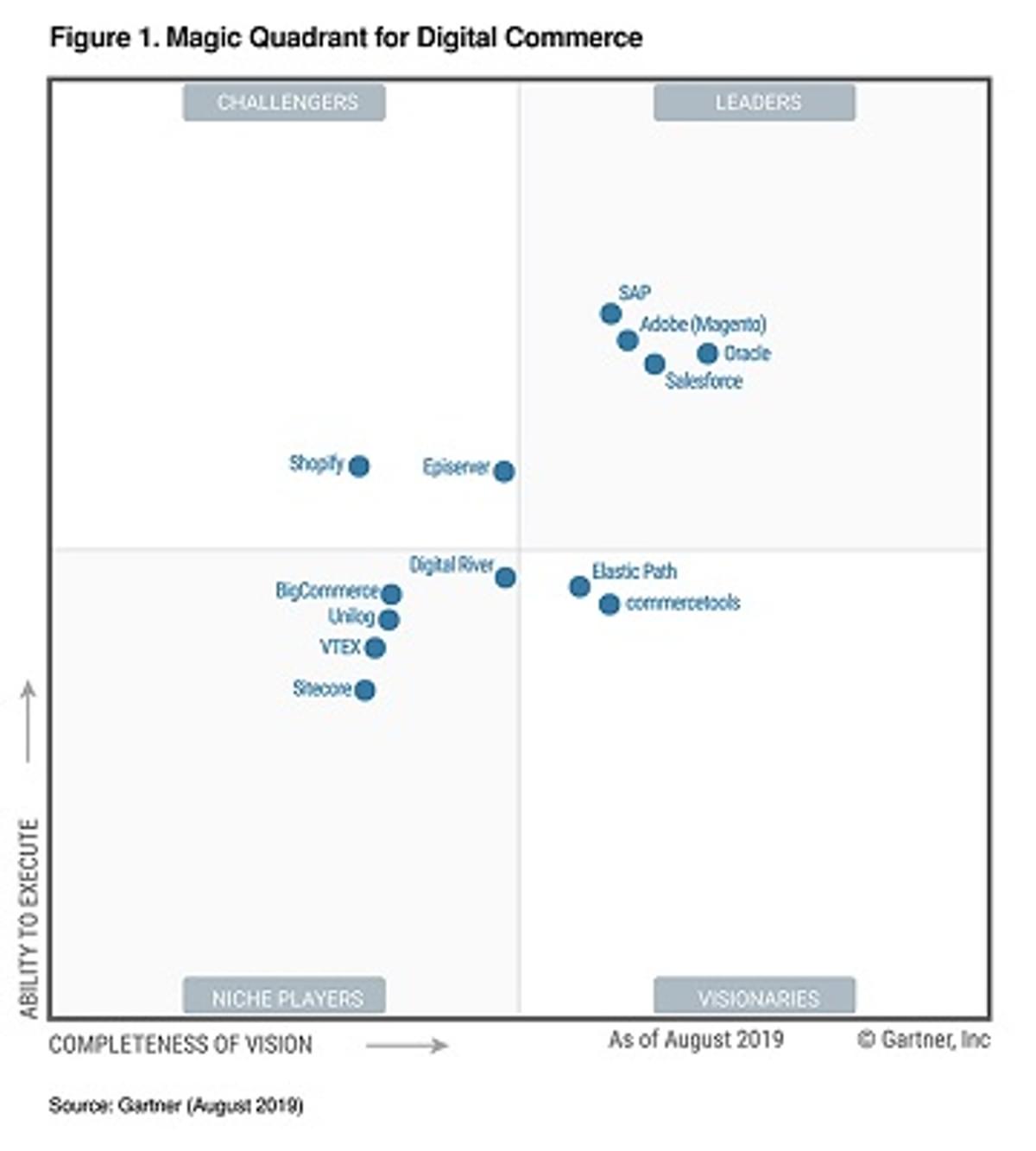 Gartner heeft onlangs zijn Magic Quadrant for Digital Commerce gepubliceerd waar een aantal topspelers worden benoemd. Leiders zijn Oracle, Salesforce, Adobe en SAP. Bedrijven met een visie zijn Elastic Path en commercetools. Uitdagers zijn Episerver en Shopify. niche spelers zijn Digital River, BigCommerce, UniLog, VTEX en Sitecore.
Gartner definieert een digital commerce platform als de kerntechnologie waarmee klanten goederen en diensten kunnen kopen via een interactieve en zelfbedieningservaring. Het platform biedt klanten de nodige informatie om hun koopbeslissingen te nemen en gebruikt regels en gegevens om volledig geprijsde betalingsopdrachten te presenteren.
Het platform moet out-of-the-box-mogelijkheden of de API's hebben om een selfservice, interactieve commerce-ervaring te ondersteunen die omvat: storefront, navigatie naar productcatalogus, productpagina's, winkelwagentje, uitchecken en klantaccount.
Het commerciële product moet out-of-the-box de mogelijkheid ondersteunen om naar een product te zoeken, producten aan een winkelwagentje toe te voegen en een order volledig te prijzen inclusief product-, klant- of orderniveau kortingen of promoties. Het commerciële product moet de interoperabiliteit met klant, product en inhoud ondersteunen, aldus Gartner.